Mid-Century Modern Architecture Design in the movies
It's not just Mad Men making MCM look good
When we close our eyes, our dreams are most certainly staged with clerestory windows, perfect patio spaces, and Danish-inspired furniture. Filmmakers get to make the settings of their dreams a reality. Mid-Century Modern design has remained a constant choice for a backdrop not only mid-century storytelling but can be see in many movies on the big screen. The spectrum of style and influence of Mid-Century design is as wide and as versatile as the tastes and interest of its fans. It should be no surprise that this era of time would be appealing to serve as a set for many projects.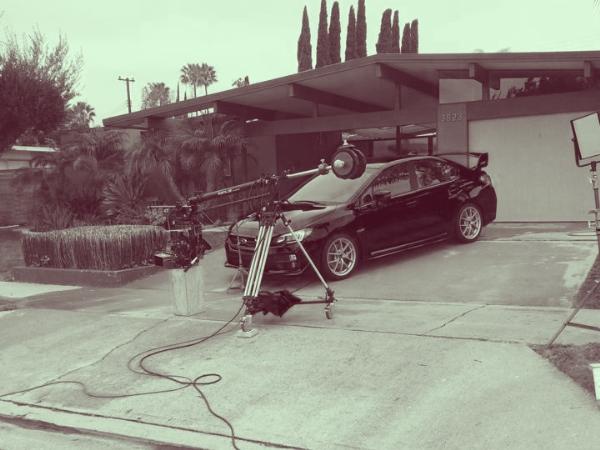 Mid-Century sets are not only used for stories being told about life during the Post-War Period; many are set in current times. Even Hollywood power couples like Brad and Angie fantasize about Mid-century lives. Their "Domestic Bliss" photo shoot for W magazine was downright amazing! There is a continuing demand for Eichler and Mid-Century designed homes to be used as active sets to film in. I caught the premier episode of HBO's new series Silicon Valley last night. The episode teased a few quick flashes of the exterior of the young web-developer's home that appears to be an Eichler.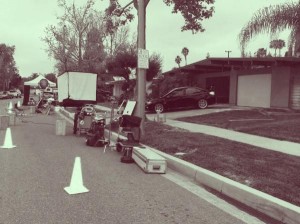 Of course we were thrilled to see an Eichler home featured in a Super Bowl commercial this past season. Having your Eichler home used as a set has its pros and cons though. Eichlernetwork.com wrote an interesting piece awhile back about the inconvenience of the takeover that happens, but for many, the paycheck that follows is worth it. One pair of Eichler-owners used the income from CSI episodes and the filming of Employee Of The Month (2006) to finance a restoration of their entire property. We have helped many production teams pair up with Eichler owners for projects like the images shown here from a recent commercial shoot.
Of course we could list iconic films like Pillow Talk (1959), Diamonds Are Forever (1971), Lautner's Treehorn Residence from The Big Lebowski (1998), and who didn't want Cameryn's house from Ferris Bueller's Day Off (1986)? The Brady Bunch home and the phenomenal set design of the Mad Men series deserve posts of their own. James Munn's "Design In Film: The Modern House" is just over 11 minutes long and jam-packed with MCM cinematic jewels. Instead, we thought we could show some of the other MCM gems that you may have overlooked?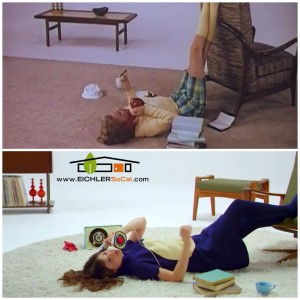 She & Him: Current taste-makers and even young Millennials continue to be drawn to Mid-Century style and a throwback to a period of time they were not even around to experience. MCM influence is obvious in current home and fashion trends. Musical act She & Him have a love for this era in both music and style. MidcenturyModernist.com noticed a striking influence between a 1958 film, "American Look," made by Chevrolet, and the She & Him video for "Don't Look Back." Both fun videos to watch, especially one after another. Follow the link here, and see for yourself.
The Vandamm House: In 1958 while North by Northwest was in production, all of the world had their eyes on Modern Architecture. It was assumed Wright would work on the upcoming Warner Brothers movie, The Fountianhead, but deals fell through during negotiations about budget. We came across a great read on this subject along with some information on the fictional Vandamm home from North By Northwest (1959) here on jetsetmodern.com. Of course this can be included in the iconic MCM film sets category, but I also discovered Etsy.com can be a wonderful source of MCM inspired film prints. The movie poster print shown here would be a great addition to a media room or home office in your Eichler.
The Parr House: You may not recognize the owners of a Mid-Century property by their formal names of Bob and Helen Parr. In many households they are known as Mr. Incredible and Elastigirl from Disney Pixar's The Incredibles (2004). The suburban home the Parr family is relocated to is one we really wish was a real property to visit. The chairs alone are worth watching for. Pixar continues to suggest the time period the film was to take place is ambiguous, but the overall style of the characters and set seem to be Mid-Century to us. Of course Pixar made a short film (they are kind of good at that stuff) describing the set design for the project. Pixar loves bringing the outside in as well. A large atrium at Pixar headquarters is accessible to all employees to develop thoughts, collaborate ideas, and keep them inspired.
 Suzy Bishop's Well, Entire Life: The films of Wes Anderson are known for meticulous care and attention to set design down a scribble on notepaper that may be seen on camera. Anderson's use of color is so tactful many even consider the palettes of his work to become characters as well. We love this tumblr account dedicated to that very subject. The set of Moonrise Kingdom (2012) includes many great furniture pieces (those sliding door bookcase benches in the kids' room would be great in an Eichler!) and wardrobe choices that lean toward the Mid-Century Style. The set of Anderson's Bottle Rocket (1996) is also worth a mention.
Just what is the appeal of Mid-Century Modern style? The National Building Museum challenges that perhaps it is independence. The carefree single lifestyle, an empowered working women, evil supervillans. Films from the 50's and 60's showcasing these ideas and characters still resonate today. Mid-Century Modern influence is not going away. If anything it is gaining momentum. Recent films such as Crazy Stupid Love (2011), A Single Man (2009), and Ghost Writer (2010) have made that clear. If you are a Mid-Century enthusiast and a film and television fan, then there is even more of a call to action to make sure our Orange County properties get restored properly and maintained for future use. Contact us today if you have any questions or may be interested in being included on an upcoming project–we would love to get you involved!  Our number is 714.376.0212.